Creating a brand around surprisingly human care.
As an organization committed to changing the state of healthcare, TriHealth is recognized across the greater Cincinnati area for many strengths — most notably, its delivery of care that leads to better health outcomes among patients. Through our partnership, we've helped their marketing team uncover and better share the many benefits their proactive, population health approach with their community.
Through a thorough brand discovery and definition process, we arrived at a new brand position and promise that highlighted these strengths — among internal and external audiences. The new creative we've developed encourages individuals to come connect with a care team who will treat them as a human; hearing their challenges and embracing their true needs when creating a plan to help improve everyday health.
Business support
Brand strategy and positioning
Brand creative platform and campaign — concepting and development
Content and messaging strategies
Internal engagement
"Core was able to hold a mirror up to TriHealth's true identity in the market. With that knowledge, they brought that identity to life through our marketing and to rally our 11,000+ team members behind it. In the end, we developed a unique, credible and impactful brand position and creative platform that resonates with both healthcare consumers and our team members."
Rob Whitehouse - VP of Marketing & Communications, TriHealth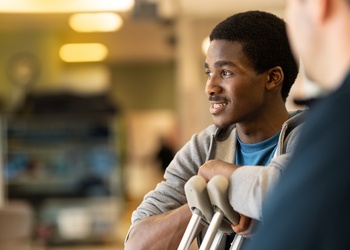 Interested in healthcare marketing?
Visit the website for our specialized healthcare marketing practice, Core Health, for more information on how we serve healthcare brands.
Visit Core Health
Want to make great work with us?
Whether you're in need of marketing services or want to put your skills to use making breakthrough creative, we want to hear from you.
Contact Us