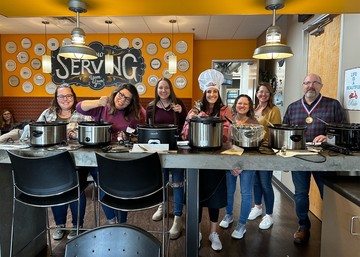 In May 2022, the Milwaukee Journal Sentinel once again recognized Core Creative among its Top Workplaces. The list is based on employee feedback gathered through a third-party survey, which uniquely measures 15 culture drivers that are critical to the success of any organization: including alignment, execution, and connection, to name a few.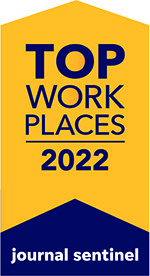 As a full-service marketing agency, Core Creative abides by its say it. live it.® philosophy for brand development and marketing, aligning its external brand with its internal practices. Based on employee feedback, the agency continues to foster a positive environment of collaboration and communication, even as it transitioned to a hybrid-model workplace amid the pandemic.
Despite several years that posed unforeseen challenges for many agencies, Core has continually identified new opportunities to maintain its close-knit culture, and even substantially expand its team. In 2021 alone, the agency added 27 new employees, and promoted many others internally.
"To see how much we've been able to grow over the past several years is itself a testament to the strength — and importance — of our culture,'" said Ward Alles, president of Core Creative. "People thrive when they find purpose in their work, and when they enjoy coming to work. That sense of fulfillment helps drive our success as a business. It enables us to solve challenges and serve our clients better. What's most exciting about the Top Workplaces honor is that it's awarded based on the feedback of our own team: a great group of people that continues to grow, and create really inspiring work."
Awarded the same distinction in 2019 and 2021, as well as similar awards through other organizations as a Best Place to Work, Core Creative takes pride in its continued recognition as a Top Workplace in southeast Wisconsin and in its culture of success, reinforcing its commitment to promoting healthier, more engaged lives. In 2021, it also won a special distinction for New Ideas, reflecting its encouragement of and receptiveness to employee input on how to move the business forward and continually improve its internal culture.
Founded in 1994, Core Creative is a top 10 marketing communications agency in Milwaukee, known for developing award-winning creative campaigns steeped in research, insight and strategy. Its ability to deliver impactful messaging moves people to take the desired action and ultimately meet clients' business goals. Core Creative also includes its specialized healthcare marketing practice, Core Health, primarily serving mid-market hospitals, health systems and B2B health clientele. To learn more about Core Creative's services and how we can help solve your marketing challenges, contact us.
Want to read more?
Don't miss out! Return to the Core news page to learn more about our latest happenings.
Return to news