say it. live it.®
Our human-centered brand philosophy helps brands uncover their unique position and purpose, doing so in a way that's truly connected to both its people and prospects. We don't tell you who you are. We help guide, elevate and articulate the best parts of your brand, connecting you with all of your audiences in a way that's truly memorable.
The best brands are discovered, not created. Our scalable 5D Brand Process (Discover, Define, Develop, Deploy, Debrief) helps connect the dots and achieve a result that is a distinct and accurate articulation of your brand, reflecting the business's unique value — and values.
Collaborating to understand your brand from the inside out helps us identify all the factors that resonate with your employees and external audiences, resulting a strong, unified and unmistakable presence.
Brand Strategy and Positioning
Brand Creative and Storytelling
Rebranding
Employer Branding
Brand Marketing
Research
Our unique say it. live it.® philosophy is a dynamic, inclusive, and engaging way to craft marketing strategies. It ensures the elements of our plans work both individually and together with strong strategic direction.
The end result? A measurably impactful marketing program that's true to the brand, the audience, and the business's goals.
Marketing Strategy and Planning
Advertising Campaigns
Communication and Messaging Strategy
Internal Communications
Media Strategy
SEO/SEM
Programmatic and Digital Paid Advertising
Content and Social Media Strategy
Email Marketing
Public Relations
Event Marketing
Our collaborative and inclusive creative process centers on people's real experiences, infusing the brand with humanity. Through poignant, moving stories, striking visuals and unforgettable messaging, our goal is to inspire people with emotional creative work, strengthening the brand in people's hearts and minds and moving them to their next step.
Creative and Messaging Platforms
Creative Strategy
Brand Storytelling
Print, Digital and Social Media Content
Broadcast and Video
Logo Design and Brand Identity
Websites and Landing Pages

Keeping humanity in healthcare.
Connecting with healthcare audiences takes a unique, strategic approach and special creative finesse. If you're a healthcare marketer seeking solutions to help people live healthier, more engaged lives, explore our specialized practice, Core Health.
Visit Core Health
Let's get to the
good stuff.
Sure, our services sound great. That's why they're sought by B2B and B2C businesses of all sizes — from healthcare systems and major manufacturers to insurance providers and elite luxury brands. But why not see it to believe it?
Explore Our Work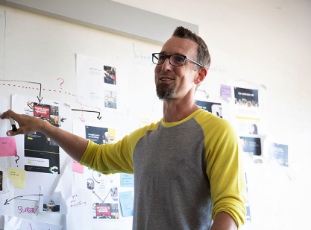 How can we help your brand?
We can't wait to get started. Share your marketing challenges and we'll take it from there.
Contact Us